Team Ascendis
Mountain biking is a rapidly growing, and extremely popular, sport in South Africa. Widely acknowledged as the 'new golf' it is the ideal activity to get fit and healthy and stay in shape. It is also a sport which Ascendis Health has opted to sponsor as part of its Corporate Social Responsibility programme. It is the perfect fit of health and fitness alongside the brand ideals of health and care upheld by Ascendis Health.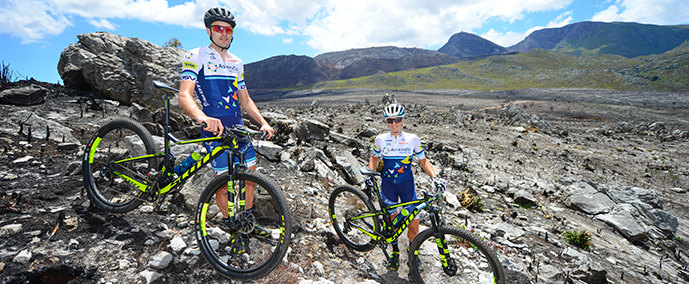 "Ascendis is a fast-growing South African health and care company with leading health brands and increasing international business, so it made perfect sense that we align ourselves with a fast-growing sport that embodies the essence of healthy living and the outdoor enjoyment of our scenic country." – Dr Karsten Wellner, CEO, Ascendis Health.
Ascendis formed a partnership with Lange Sports, owned and run by Malcolm Lange, a South African cycling icon, and he signed on the most promising and strongest professional female mountain bike riders in South Africa – Jennie Stenerhag, Sweden's national marathon champion, and Robyn de Groot, South African marathon mountain bike champion.
Robyn de Groot was part of the National Women's Road Cycling team for six years before moving to mountain bikes in 2013 and is currently the South African champion. Jenny is originally from Sweden, but lives and trains in Stellenbosch, South Africa. She won the Swedish National Championship and the Cape Argus Pick 'n Pay Cycle Tour in 2009. Jenny is currently the Swedish mountain bike marathon champion.
"With this exciting initiative forming Team Ascendis Health we will bring our brands even closer to many of our product users and stakeholders, as well as offering an insight into the Ascendis corporate culture of excellence, delivery and the ongoing pursuit of success." – Dr Karsten Wellner, CEO, Ascendis Health.