Nemato Change a Life
For ten years, Nemato Change a Life has provided children in one of South Africa's most impoverished regions with the opportunity to participate in a comprehensive programme of education, nutrition, sport, and skills and career development.
Nemato's sports development programme provides training in four Olympic sports: rowing, gymnastics, handball and fencing, and Nemato sportsmen compete provincially, nationally and even internationally. The programme produced its first national champions in rowing in 2015 and the team (who won the U15 open event at the South African Schools Championships in 2016) were invited to compete with the Rhodes University team in the 2016 national rowing championships.
Nemato gymnasts excel in national competitions and five have represented South Africa internationally in recent years. Despite its lack of state-of-the-art equipment, Nemato Change a Life now ranks as South Africa's strongest tumbling and trampoline club, and its achievements have not gone unnoticed by South Africa Sports Federation and Olympics Committee (SASCOC).
Although the club's initial focus was on sports development, it soon realised that without education, its young champions would remain trapped in a life of unemployment and poverty. Another harsh reality was that the youngest members of its community were not receiving early childhood development before primary school (a period of critical cognitive and social development) and that the children at school were receiving education that was so inadequate it would not qualify them for tertiary education. The club first introduced homework classes to address the immediate challenge of poor education by providing academic support online and from volunteer teachers.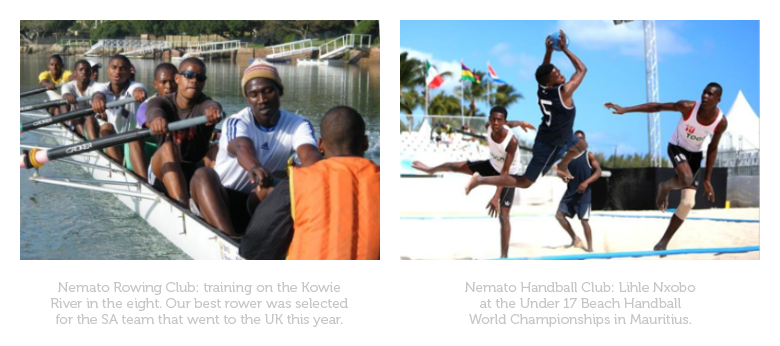 In 2015, the club established an early childhood development forum in partnership with Port Elizabeth-based NGO Early Inspiration to create a platform for local pre-schools to exchange ideas and learn from one another. Early Inspiration provides the forum with support in a range of areas, including teacher training and financial literacy. 12 local teachers are currently completing an NQF level 2 early childhood development course for pre-school teachers.
The Nemato academic support programme focuses on Maths and English to primary and secondary school learners. The club is working with the Learning Trust to improve the effectiveness of its youth empowerment programmes and one of the outcomes of this process has been a significant improvement in the maths marks of grades 7, 8 and 9 participants. Nemato offers after-school maths classes five times a week with a numeracy programme for grades 1 to 6 and a maths programme for grades 7 to 9. An innovative intervention to reinforce the basics and then let learners develop at their own pace has resulted in an average 131% improvement in participants' maths results.
Athenkosi Hlekani was the first member of Nemato Change a Life to graduate with a degree in Business Science and is now employed as a teacher and rowing head coach at Jeppe Boys High School in Johannesburg as he completes a post-graduate course in education. More than 20 students are studying at universities and FET colleges outside Port Alfred. For school-leavers not able to study, the club searches for skills development, job shadowing and employment opportunities in Port Alfred and the surrounding areas.