Entrepreneurial Development
At the heart of Ascendis Health is our entrepreneurial spirit and it is the reason for our very existence. Ascendis Health was established, and continues to grow, through the acquisition of strong and resilient brands that was once started by entrepreneurs.
We are therefore extremely passionate about the entrepreneurs we support through our enterprise and supplier development projects. The vital importance and positive contribution of entrepreneurship and an entrepreneurial culture in economic and social development cannot be overstated. Entrepreneurs create and bring to life new technologies, products and services and create new markets and jobs along the way. Entrepreneurs are smart risk takers, implementers, rule-breakers; or in a word: innovators. And like any emerging economy aiming to move ahead, in South Africa we need lots of them!
In partnership with Edge Growth, we were able to provide financial assistance to two entrepreneurs to help take their business to the next level.
Living Hope, is a non-profit organization based in Cape Town that undertakes community development through educational, social, income generation and health related programs; and plays a vital role in the prevention, care and treatment of people infected and affected by HIV/AIDS and other chronic illnesses. Living Hope also runs an Agriculture and Business Training division focusing on Tunnel Farming projects. Through Living Hope's Harvest Training Initiative programme, up to 20 people at a time are selected to learn small-scale farming and basic business skills over a 15-month period. This is at no cost to the participants. The programme teaches vegetable and chicken farming which is the type of subsistence farming that many participants are familiar with through having grown up in rural areas where households produce their own food.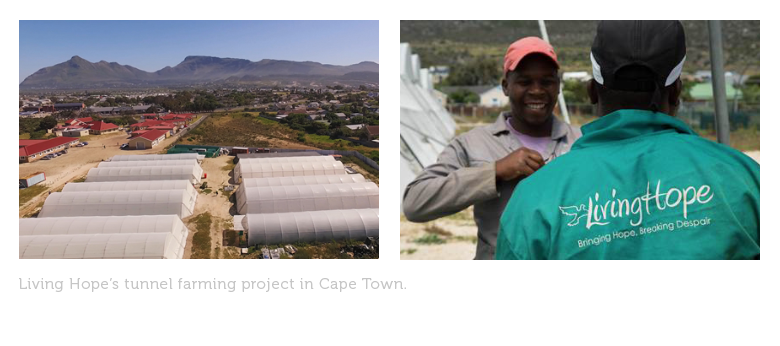 New Earth Recycling (NER), situated in Parow Industria, Cape Town is a niche recycler focusing on Polystyrene and e-waste. For many recycling companies the recycling industry is rather competitive to navigate through but for the dedicated and passionate entrepreneur Noel Erenreich it just became an exciting challenge. New Earth Recycling has deep roots within the community, involving itself in not only in recycling but in recycling education as well. Frequently run campaigns, in association with the local schools in the area, teach residence and kids about the benefits of recycling holistically as well as the right way in recycling polystyrene and e-waste. In addition, NER has good relationships with the Polystyrene Council and many other stakeholders which results in them always innovating and differentiating themselves, a feat not easy achievable in recycling